---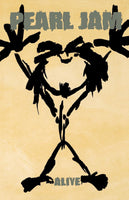 Pearl Jam, Alive (Cassette Single)
2021 marks the 30th anniversary of Pearl Jam's iconic debut album 'Ten'. "Alive" was the first single off the album and 30 years later it's being reissued as both a 12" and a cassette single.  
The "Alive" cassette single is a replica of the promo cassette that was originally used around the album's release. It includes the promo single version of "Alive" plus "Wash" and "I've Got A Feeling", repeated on both sides. 
Side A
1. Alive (promo single version)                           
2. Wash (original version)                                     
3. I've Got A Feeling                                               
Side B
Repeat Side A program



MEMBERS ONLY
LIMITED QUANTITY. STOCK IN HAND.