---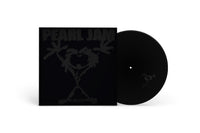 Warehouse find. While supplies last.
RSD 2021


Pearl Jam, Alive (12" Single with Etching)
2021 marks the 30th anniversary of Pearl Jam's iconic debut album 'Ten'. "Alive" was the first single off the album and 30 years later it's being reissued as both a 12" and a cassette single.  
The 12" features the original promo single version of "Alive" plus three rare b-sides: "Wash", "Dirty Frank" and the Beatles' cover "I've Got A Feeling", which is currently not available anywhere else. All four tracks are included on side A while side B contains an etching of the band's 'Stick Man' logo.
Side A
1. Alive
2. Wash
3. I've Got A Feeling
4. Dirty Frank
Side B
Etching


MEMBERS ONLY
LIMITED QUANTITY. STOCK IN HAND.