---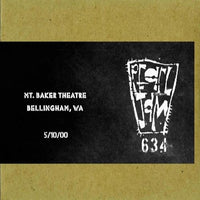 On May 10th, 2000 Pearl Jam kicked off the first of over 70 shows that year showcasing Binaural. Many of those shows would be released as the first official Pearl Jam Bootlegs.
This show was chosen as Vault #4 and was released on Vinyl, CD and Digital formats.
FREE SHIPPING US.
Standard shipping rates apply for INT orders.
Bootleg CDs are shipped directly from Nugs.net.
Items ordered with your CD purchase will ship from the Ten Club
If you have any questions about your bootleg order, please contact Nugs by opening a new customer service ticket at
help.nugs.net
.  
Disc 1
Of The Girl
Grievance
Breakerfall
Nothing As It Seems
God's Dice
Light Years
Thin Air
Do The Evolution
Black
Red Mosquito
Daughter
Faithfull
Disc 2
MFC
Evacuation
Immortality
Encore 1 Break
Corduroy
Wishlist
Insignificance
Untitled Jam
Go
Encore 2 Break
Soon Forget
Yellow Ledbetter