---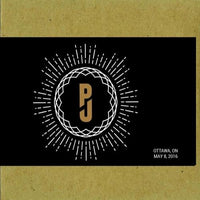 FREE SHIPPING US.
Standard shipping rates apply for INT orders.
Bootleg CDs are shipped directly from Nugs.net.
Items ordered with your CD purchase will ship from the Ten Club and will arrive shortly after you receive the CDs.
If you have any questions about your bootleg order, please contact Nugs by opening a new customer service ticket at
help.nugs.net
.  
Disc 1
Lightning Bolt
Mind Your Manners
Do The Evolution
Save You
Elderly Woman Behind The Counter In A Small Town
Love Boat Captain
Deep
Faithfull
I Am Mine
Even Flow
Setting Forth
Corduroy
Disc 2
Immortality
Given To Fly
Big Wave
Why Go
Jeremy
Porch
Encore 1 Break
Bee Girl
Speed Of Sound
Parachutes
Sirens
Disc 3
Love, Reign O'er Me
Better Man
Blood
Encore 2 Break
All I Want Is You
Wasted Reprise
Life Wasted
Black
Alive
Fuckin' Up