---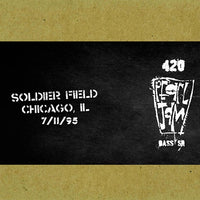 Available in ALAC, ALAC-HD (24 bit/96KHz), MP3(256 kbit/s VBR), FLAC and FLAC-HD (24 bit/96KHz).
Files are downloaded using the Nugster App, provided with download.
***PLEASE NOTE**** The encore tracks from this show are not available from the original multi-track source and therefore are only available in MP3 format.
Link to zip file will be provided in your order history after purchase.
If you have any questions about your bootleg order, please contact Nugs by opening a new customer service ticket at help.nugs.net.
 
Disc 1
Release
Go
Last Exit
Spin The Black Circle
Tremor Christ
Corduroy
Whipping
I Got Id
Dissident
Even Flow
Improv
Deep
Jeremy
Glorified G
Disc 2
Daughter
Animal
Habit
Lukin
Not For You
Elderly Woman Behind The Counter In A Small Town
Immortality
Alive
Porch
Disc 3
Everyday People
Let My Love Open The Door
Better Man
Rearviewmirror
Black
Blood
Yellow Ledbetter